The past few weeks have seen multiple investments in the red hot CBD space from existing CPG investment firms, as well as deal news in other trending categories such as alternative protein and the frozen food aisle. Beam Raises $5 for Functional CBD Platform Boston-based CBD brand Beam last week closed a $5M round of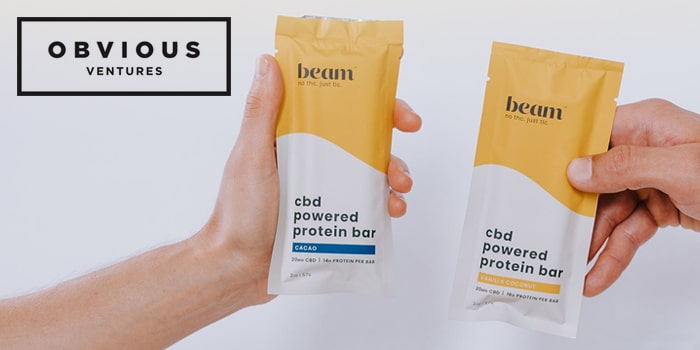 The past few weeks have seen multiple investments in the red hot CBD space from existing CPG investment firms, as well as deal news in other trending categories such as alternative protein and the frozen food aisle.
Beam Raises $5 for Functional CBD Platform
Boston-based CBD brand Beam last week closed a $5M round of funding led by investment firm Obvious Ventures. Other firms and investors contributed about $1 million of the round, including cash from C2V Ventures and Camwood Capital, alongside notable angel investors such as Yasso co-founder Drew Harrington, the founders of Kitu SuperCoffee and Freshly CEO Carter Comstock.
Beam co-founders Kevin Moran and Matt Lombardi met while attending Boston College before both went on to careers in professional baseball and hockey, respectively. After being sidelined by career-ending injuries, the duo founded Beam in 2018. The brand had previously raised $800,000 before meeting with Obvious, which, Moran said, was looking for a CBD investment to back.
"They agree with us that innovation is going to be king in this space," Moran told NOSH. "Then from a values perspective we were very aligned in that we think that product and profit are [both important]."
Lombardi added that the capital was needed for product innovation and marketing. Beam plans to launch several new products at the end of November, one of which will be a CBD powder. All products will combine CBD with other functional ingredients, in an effort to offer consumers more specific health benefits for different day parts and need states instead of broad functional claims.
"It's an emerging market and one of our theses has been that the brands that spend the most are going to win," Lombardi said. "That doesn't mean just spending stupid money but it means the brands who are investing in product, marketing and innovation are going to win because [the category] is already becoming so saturated."
Beam uses broad spectrum CBD which the co-founders say gives the products the benefit of being more functionally effective then a CBD isolate would, but avoids even having trace amounts of THC. While the company currently sells topicals, tinctures and protein bars, the goal is to find new ways of integrating CBD into food and beverage products that the average wellness consumer is already using — and not vapes, gummies and patches, Lombardi said.
"A lot of the stigma and a lot of these issues within CBD come from the form factors of these products [being] parallel to THC products," Lombardi said. "We saw a lot of white space around the form factors…and making these products more seamlessly integrated into people's lives."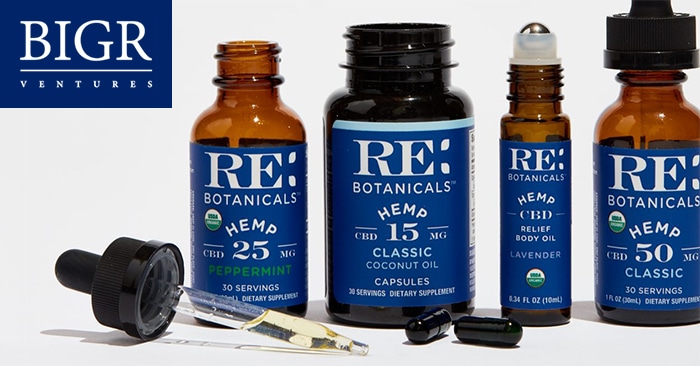 RE Botanicals Closes Second Round from BIGR
Following the close of $2 million in funding earlier this year, CBD brand RE Botanicals has raised another $3 million in funding. The round was led by venture firm BIGR Ventures, who also previously invested $1 million in the company.
The investment will go towards expansion, increasing the capacity of their current organic hemp growing and processing facilities, launching into new retailers and marketing. RE also hopes to move into new channels such as private label products as well as bulk items. Founder and Chief Hemp Officer John Roulac believes that RE's organic certification will give the brand a leg up in the crowded CBD space.
"While organic hemp products only account for one percent of the marketplace today, BIGR's investment illustrates the impending growth of organic hemp CBD in a category that is becoming more crowded every day with inferior products," Roulac said in an email. "My prediction is that RE Botanicals will help lead the charge to inspire change, increasing the number of certified organic hemp brands to 10-15 percent within the year."
RE, which debuted in the fall of 2018, is currently sold in 1,600 stores nationwide, up from 1,200 stores in September. Last month the company merged with Palmetto Harmony, a provider of organically cultivated natural essential oils. Palmetto will offer RE greater control of its hemp supply chain and a reduction in cost of goods, while RE will assist in scaling that brand into retail, the company said in a release.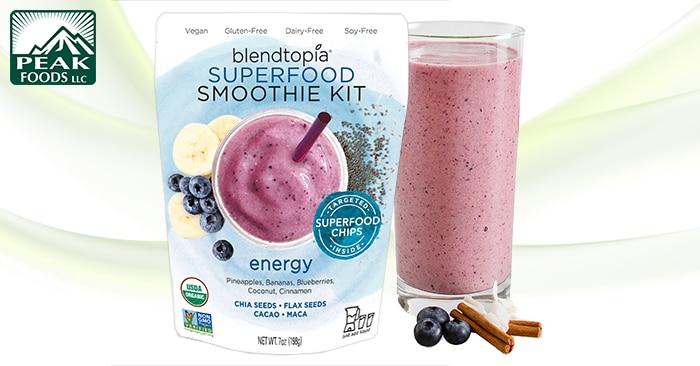 Peak Foods Picks Up Blendtopia
Frozen smoothie kit company Blendtopia was acquired earlier this month by Peak Foods, a producer of whipped frozen topping. Originally launched in 2014 under the moniker Roots True Foods, Blendtopia sells pre-portioned frozen smoothie kits that just require consumers to add liquid and blend.
The line, which is vegan, gluten-free, soy-free and dairy-free and uses largely organic ingredients, is sold in over 1,000 retailers including Whole Foods, Wegmans, Earth Fare and Roche Brothers.
Peak Foods is a joint venture between Interstate Foods Group (IFG), the food processing subsidiary of Oppenheimer companies, and Lakeside Foods, a supplier of frozen and canned foods. The acquisition is expected to assist in expanding Blendtopia's retail footprint while offering Peak the opportunity to diversify its portfolio. Blendtopia's founder Tiffany Taylor joined Peak Foods to manage the lines' sales, marketing and product development.
"I've built my company with my passion for food and clean eating at top of mind," Taylor said in a release. "I'm pleased that Peak Foods feels the same way about helping me expand the brand, while allowing me to build relationships that matter and maintain the head space needed to build the future of Blendtopia."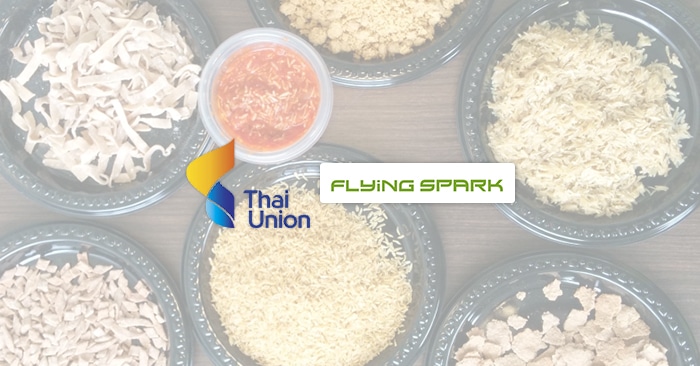 Thai Union Invests in Fruit Fly Play
Thai Union Group PCL is broadening its sourcing and investing in alternative protein. One of the world's largest seafood producers and owner of the Chicken of the Sea brand, the company last week backed Flying Spark, an ingredient company producing protein powders from the larvae of the Mediterranean Fruit Fly. The startup previously received investment and support from an Israeli food tech incubator, The Kitchen Hub, which is supported by global food company The Strauss Group.
The partnership will help "promote larval insect protein as a highly sustainable, high nutritious contender in the alternative protein market," the company said in a release.
Fruit fly larvae have a lifespan of only seven days, during which they increase their body mass 250 times. Despite the rapid growth, the larvae also are lower-cost to raise and have zero waste — all parts of the insect are used.
Thai Union recently announced the formation of its venture group with an initial pool of $30 million to invest in food tech companies. The company expects to look to other sources of protein beyond seafood as well.
"Over the last years, Thai Union has made significant investments to become a leader in seafood innovation and sustainability," Thai Union CEO Thiraphong Chansiri said in a release. "As we move into the coming decade, we will increasingly cooperate with innovative start-ups in strategically interesting areas. This will complement our own activities as we are broadening our business beyond our traditional core."